Commercial HVAC Repair Service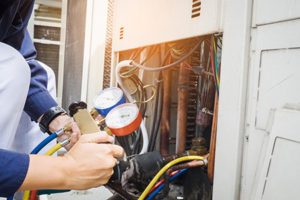 Well-functioning, efficient heating, ventilation and air conditioning (HVAC) systems are imperative for commercial businesses, regardless of the type of business you run. Without a well-functioning HVAC system, you decrease employee productivity, morale, as well as customer satisfaction. A commercial HVAC repair, if not performed by a fully licensed, seasoned professional, can lead to even more repairs and unexpected downtime, which is never a good thing when it comes to your bottom line.
This is why it is so imperative that businesses not only invest in a high-quality, commercial HVAC system but also take steps toward keeping their HVAC system operating at peak efficiency. This begins with regular commercial HVAC maintenance. Scheduling quarterly commercial HVAC maintenance that is specifically designed for commercial systems ensures that your system continues to operate efficiently over the long-term, preventing avoidable repairs and even worse, unexpected downtime.
Why Choose Sierra Air Mechanical?
At Sierra Air Mechanical, we understand that cost effective services are a priority for businesses. Serving businesses in Mississauga and in the GTA, we offer some of the most competitive rates in the area. We also know that businesses need to operate with maximum efficiency at all times. As such, our services are prompt and highly efficient, putting you back in business in no time. Further, our parts are built with the highest quality materials to prolong the life cycle of your system. Parts that are not built with the same vigor break down at much faster rates.
Sierra Air Mechanical has nearly two decades of experience in the industry. In that time, we have become a leader in the industry, and one of the most trusted HVAC service providers in the area, whether we are providing commercial HVAC installation or repairs.
Our technicians are fully registered and licensed and have undergone rigorous training, specializing in commercial HVAC installation and commercial HVAC repair. With years of experience, they are among the leading experts in the industry, qualified to handle any aspect of commercial HVAC repair and more. This is an important distinction because there are differences between commercial and residential HVAC systems. They are well versed in commercial HVAC systems, which means that they can identify trouble spots with expert precision. Always strictly adhering to code and prioritizing the safety of your employees, customers and your business, you can feel safe knowing that they have your best interest in mind.
At Sierra Air Mechanical, we only have the experts on our side who are not only among the top in their field but are also up to date on all industry standards. Untrained technicians who lack the necessary training, skills or experience can cause systems to break down faster than they should and could even cause permanent damage your HVAC system, influencing your bottom line.
When you choose Sierra Air Mechanical, you are investing in the future of your business. We give you our 100 per cent customer satisfaction guarantee. Offering extremely high value for our rates for everything from commercial HVAC installation to commercial HVAC maintenance, it is easy to see why we are the go-to choice for businesses in the area.