Residential HVAC Repair Service
We at Sierra Air Mechanical specialize in Residential heating, ventilation and air conditioning (HVAC) service and installation, as well as home HVAC maintenance and repair. We offer our residential services to the entire Greater Toronto Area. Our services include:
HVAC Installation
HVAC Repair
HVAC Maintenance
HVAC Replacement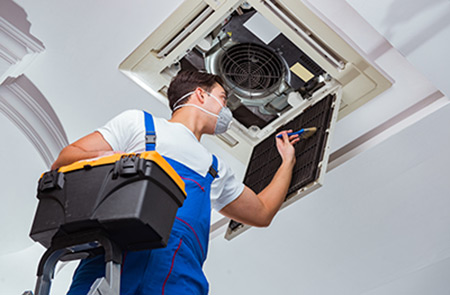 Southern Ontario residents experience a wide fluctuation in temperature and weather conditions throughout the year. From hot, humid summers, to freezing sub-zero winters, proper maintenance of residential HVAC systems is a necessity. Professional HVAC maintenance can also ensure your home is as efficient and environmentally friendly as it can possibly be, which will also help to keep energy costs down.
At Sierra Air Mechanical, we offer the following options for HVAC system installation, repair, maintenance, and replacement:
Heating: boilers, furnace, in-floor heating and heat pumps
Air conditioning: AC units
Sierra Air is pleased to service Southern Ontario residents with a variety of heating and cooling solutions. Our expert technicians are dedicated to providing excellent service, quality, repair, and maintenance.
HVAC Maintenance
Regular maintenance of residential HVAC systems is essential when it comes not only to proper function of boilers, furnaces, and AC units, but also for better energy efficiency and in-home air quality. A properly maintained HVAC system can cut hydro costs from five to ten per cent, as well as generally improving comfort and air quality.
Additionally, improper maintenance, or neglecting to maintain HVAC systems in the home can lead to costly repairs or replacements down the road. We can work with you to properly install your HVAC system, and then to set up a maintenance program which will save money and energy over time.
Your home should always be a place of comfort. By ensuring correct HVAC installation and continued maintenance, you can keep your home comfortable, and reduce your environmental footprint.
Air quality is also important to keep your family and you in the best possible health. Proper maintenance of heating and cooling systems, for instance, to make sure the filter on your AC unit is regularly changed, means you can rest easy knowing the air in your home is high quality, which is helpful for all residents' health, comfort, and happiness!
Common residential heating and cooling problems include:
Blocked air filters
AC leaks
Electrical failures
Thermostat sensor malfunction
Heating or cooling system not shutting off properly
Drainage blocks
Ignition problems
Uneven heating or cooling (some rooms temperature-controlled better than others).
Why Choose Sierra Air Mechanical?
Our professional staff at Sierra Air are highly trained to provide you the best residential HVAC service, whether it be installation, maintenance, or repairs. Our technicians are all licensed and bonded, dedicated to providing our residential customers with excellent service, respect, and care. We also know that heating and cooling systems can break down at any time of day, so we are happy to provide round the clock service to our customers.
We're happy to provide the GTA with a wide variety of residential HVAC installation and service. Explore our website to view the range of HVAC services we provide, as well as information about financial solutions and customer testimonials.
Manufacturers we work with
Financing Available
We are proud to serve the city of Mississauga and the surrounding areas with special financing plans at a 0% interest rate, with no payment needed the first year.
If you would like to know more about the finance and payment solutions we can offer, contact us today for a no-obligation estimate.